The word beauty has many interpretations, but society's understanding of beauty is the physical aspect. Attractive face, captivating eyes, incredible smile, good hair, clear skin and having a nice body. However, these words I've used to describe society's interpretation of beauty was always filled with the idea that there was only one shade of beauty…
Growing up in a predominately white area, the only standard of beauty I was constantly faced with was blonde straight hair or brown hair, blue eyes, rosie cheeks and thin pink lips. In my eyes, I believed that I did not match that standard of beauty. No matter how much I relaxed my hair, wore weaves, or how hard I tried to make my lips appear thinner, I still did not match up to that standard of beauty…
Everywhere I went all I saw were these beautiful white girls with straight hair, petite bodies, and adorable eyes. From tv shows to movies, the girl from across the street, to my crush's girlfriend. For years, I felt ugly in my own skin. I'm sad to admit but at a time I did not like being black…
I was made to feel ashamed of my blackness because not many people looked like me at that time. There was not enough representation of beautiful black queens we see today on tv, Instagram or in the magazines with amazing chocolate complexion.
Finding a foundation that suited my skin tone was difficult, feeling once again that I did not fit into this idea of beauty that was so much plastered all over.
Although there were some women of colour in the media and that gave me hope to find some resemblance and some acceptance. I saw these very beautiful light skinned and mixed-race women, but I still felt out of place…
I asked myself, must I look like them to be considered beautiful?… Must I have lighter skin with curly or wavy hair to look acceptable?… Must I change the way I sound, look and present myself to fit into this standard of beauty?…
For years, women of colour have been somehow made to believe that being light skinned or passing for white was the only standard of beauty… For years we had been made to believe our kinky natural hair wasn't considered beautiful. Our full lips, nose, curvy body and amazing chocolate complexion were not good enough to be considered beautiful.
Chastised for the way we looked. Ostracize for trying to embrace our natural selves… For centuries we were made to believe that for us women to fit in and be looked at as beautiful to the world, we would have to change ourselves…
Women like Sarah Baartman were misunderstood because their type of beauty was not 'common' in the eyes of others and because of that they were ostracized for it…
For centuries human beings had set this so-called standard of beauty, as a result, subjected so many people to feeling that if they don't resemble such criteria they are not beautiful…
It's a shame that the little girls growing up back then did not have the role models we have today to remind them that they are beautiful in their own skin. Their kinky natural hair, full lips, nose, and curves were beautiful and enough.
With that said, society's standard of beauty is constantly changing, it appears that all types shades of beauty are beginning to be accepted and embraced. From the beautiful dark girl to the caramel girl, to the tanned girl and to pale skin. There are many shades of beauty.
I'm glad that there is more representation of different shade of beauty today. I proud of my blackness and I'm happy to see that more black women are confident and embracing their unique beauty.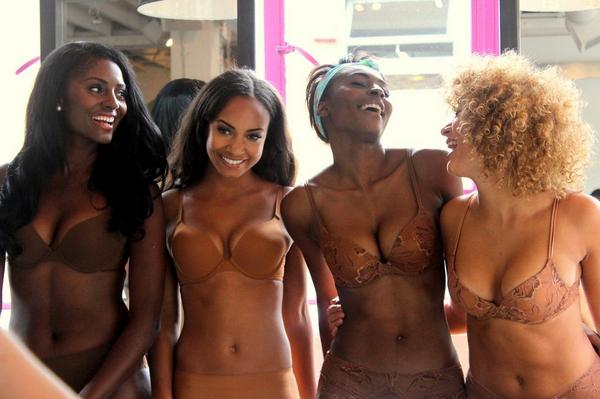 From their kinky to their curls, to their captivating eyes, curvy body, and beautiful complexion. They are embracing it…
However, despite such evolution, there is some setback… Some still feel they aren't enough because such standard somehow still exists… Some feel that their skin tone isn't good enough, so they feel they must bleach or lighten their skin…
It makes sad to know that such self-hatred still goes on in today's world. That in the eyes of someone our beauty may never to accepted…
Nevertheless, we should not let society's standard subject us to self-hatred. We are beautiful. Whatever race, you are beautiful…
Society is the same that will tell you today being slim is everything. And tomorrow they will tell you big bum, small waist, big boobs are everything or nothing or today thin brows tomorrow thick brows… Society's idea of beauty changes but our idea of beauty shouldn't.
We should always remember that there are many shade and sizes of beauty… Never let anyone tell you any different.
You are beautiful! You are enough! You are a QUEEN!
Love,
Sincerely Tosin